Marketing Your Lake County Real Estate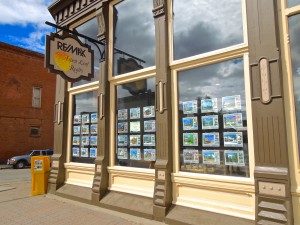 Ready to Go to Market?
If you decide to list your Leadville or Twin Lakes home with us, we want you to be aware of everything we do to market your property.
It's important to use both traditional and modern marketing methods. To maximize exposure, RE/MAX Aspen Leaf Realty subscribes to 2 different Multiple Listing Services. This means that our listings go out to agents and shoppers all over Colorado, and automatically syndicate to all major real estate listing websites.
Below are a few more of the methods we'll use to get your property sold:
Prime Location
This marketing advantage is unique to our business and gives us a leg up on the competition! We have a beautiful office (pictured above) right in the heart of downtown Leadville. Located on historic Harrison Avenue, our location sees a significant amount of pedestrian traffic and walk-ins. If you drive down Harrison on any given day, chances are you'll see people checking out the listings in our window. Many of them come inside to peruse our comprehensive listing display and get more information. They can even grab flyers when we're closed, so we're advertising your property 24/7. It's a powerful marketing advantage that only our office can give you!
Print
Yep, print marketing is still standing strong in this digital age. Sure, maybe print ads aren't considered cutting-edge anymore, but they're still effective — and they just might be the extra publicity your property needs. For example, we advertise in regional magazines, give out countless house-made listing booklets, and place flyers onsite at our listings' locations.
Digital
Digital channels are essential for marketing your Leadville or Twin Lakes property. Every listing we have appears on all of the most popular real estate websites out there. Zillow, Trulia, Realtor.com, Homes.com, Remax.com and other sites will show your listing, plus CoStar and LoopNet for commercial properties. People can see our listings on the local newspaper's website and our social media accounts. Any other realtor whose website syndicates from the MLS will be able to see & share your property easily, just like on (what we think is the most important site,) our very own LeadvilleHomes.com.
Staging
Having a clean and well-staged home is invaluable when preparing to put it on the market. Our team can offer recommendations and help to make your home shine, physically and metaphorically, before we photograph it and show it to buyers. It's important for your home to make a warm and welcoming first impression!
Photography
The right photos highlight the beauty of your property, tell a story, and catch a buyer's eye. However, nothing turns a prospective buyer off faster than being disappointed when they arrive at a showing because the photos told a story that was too good to be true. We put lots of effort into producing high-quality photos that are the perfect balance of representational and buyer-attracting sensational!
Email
An informed seller is a profitable seller! Sign up for email updates on other listings in the area to see what the market is doing, and to help you make the most informed decisions possible. You can set up email updates by visiting our Listings page and creating a saved search.